For the 6th consecutive year, JA Europe and NN Group partnered through the Social Innovation Relay to empower young people to tackle societal challenges by using innovation and entrepreneurship. Every year, we involve more than 10 000 students and 200 NN Group volunteers from across 10 countries: Bulgaria, Czech Republic, Greece, Hungary, Japan, Poland, Romania, Singapore, Slovakia and Spain.
On 17 June 2020, the 10 national winners from the participating countries joined an online competition to present their business ideas to a panel of international judges. REN from Slovakia, ACCESS from Singapore and Medinow from Greece came up with the most innovative ideas that combined societal impact with market potential. The winner teams are covering 3 different areas of social needs: environmentally friendly cleaning, providing more inclusive workplace for youth with autism and increasing access to health care in remote areas.
The event marked the final part of the Social Innovation Relay, an innovative programme designed to impact essential skills of secondary school students that underscores the important link between businesses and the society. Participating in the Social Innovation Relay allows young people to think like social entrepreneurs, gives them access to the latest technology and shows them that starting their own business can be a viable career choice.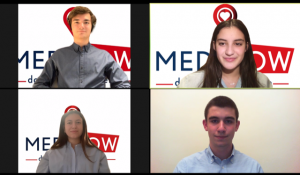 "This program taught us and change us in a better way of ourselves. We understood the knowledge of business and we developed our skills with a practical experience. We learn more about cooperation, working as a team and having fun because it was like a game we had to win. The most important is that we received a certification for the future that we will have it in our resume."– Team Medinow from Greece